Issue 15946
Resource page has wrong title, and inappropriate tab

15946
Reporter: feedback bot
Assignee: bko
Type: Improvement
Summary: Resource page has wrong title, and inappropriate tab
Priority: 

Major


Resolution: WontFix
Status: 

Closed


Created: 2014-06-17 16:31:33.528
Updated: 2017-10-09 17:08:50.406
Resolved: 2017-10-09 17:08:50.388
        <![CDATA[*Location*: http://www.gbif-uat.org/search/node/Vishwas?page=1
*User-Agent*: Mozilla/5.0 (Macintosh; Intel Mac OS X 10_7_5) AppleWebKit/537.36 (KHTML, like Gecko) Chrome/35.0.1916.153 Safari/537.36
*Referrer*: http://www.gbif-uat.org/search/node/Vishwas
*Screen Resolution*: 1680 x 1050
]]>
        
Description: Search: http://www.gbif-uat.org/search/node/Vishwas?page=1

Open "National Biodiversity Information Outlook (NBIO), India":
http://www.gbif-uat.org/resources/2307

The page that opens has:

Title in infoband = Key Information
Tab "Key Information" has nothing to do with this resource

This is the same as in the live production portal also. ]]>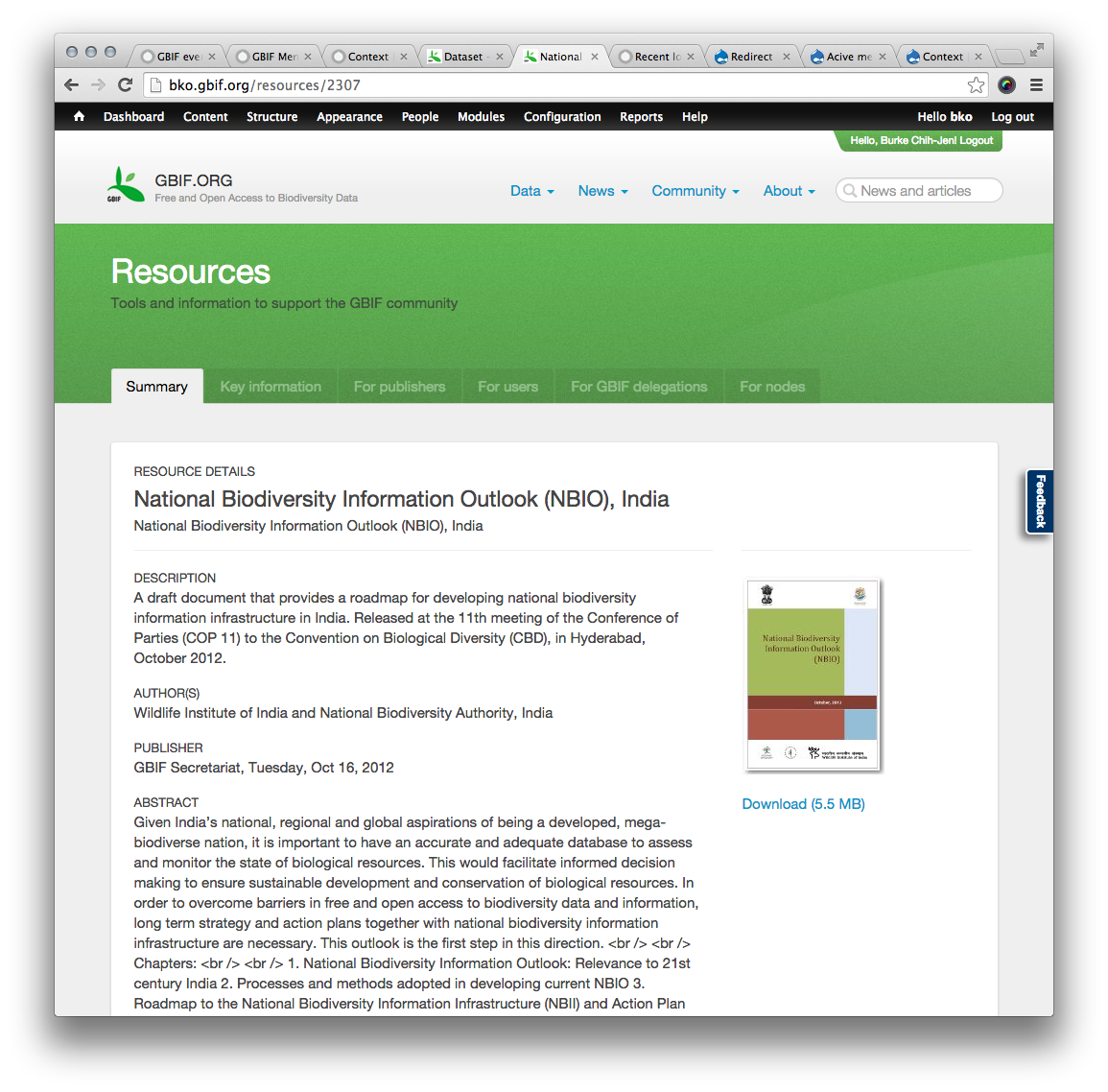 Attachment Screenshot 2014-10-24 11.44.52.png
---


Author: bko@gbif.org
Comment: We need to decide when a resource detail page is shown, which menu tab in the resource section should be highlighted. Or should it still be summary?
Created: 2014-09-15 15:04:06.526
Updated: 2014-09-15 15:04:06.526

---


Author: bko@gbif.org
Created: 2014-10-24 11:48:28.525
Updated: 2014-10-24 11:48:52.599
        
The text in the banner is now fixed. It shows "Resources" and "Tools and information to support the GBIF community". Please see the attachment.

This fix will be rolled out as part of the theme improvement, rather than being as part of the overall enhancement of our resource section.

So in the new ORC work, we still need to decide which menu tab to highlight when visiting individual resource page.